Invest in the Community That Invests in You
THANKS TO DEDICATED CITIZENS LIKE YOU Westchester is safer, more inviting and more livable to residents, visitors and businesses. With your generous donations, Westchester Streetscape Improvement Association hires talented individuals to design and carry out a variety of projects for our community.
Every dollar that you donate is tax-deductible and will be used directly for the purposes of improving Westchester.
Show Your Support for Westchester Today
When you are ready to donate, please click the buttons below.
You will be directed to our secure Paypal donation page.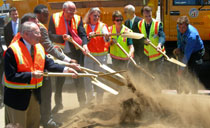 We also accept checks made payable to:
Westchester Streetscape Improvement Association 8726 South Sepulveda Boulevard , Suite D , #1621
Los Angeles , California 90045
(Tax ID # 90-0080493)
Help Us
Help us purchase raw material for sidwalks, landscaping, and medians
Help us hire talented individuals to design and maintain our neighborhood
Sponsor A Tree
We've planted hundreds of young, healthy trees.
Every tree makes a difference in the air quality, safety, and beauty of our neighborhood