Partnering for Positive Change in Westchester
EVER SINCE the first building was constructed in the middle of a bean field in 1947, Westchester has been a closez-knit community where family and friends meet.
Westchester Central Business District In The Early 1950's
THE WESTCHESTER STREETSCAPE IMPROVEMENT ASSOCIATION
is a 501c3 non-profit organization that partners with dedicated citizens, businesses, and government agencies to improve our community.
With years of generous donations, now smooth sidewalks, trees and commemorative plaques greet residents and visitors who walk down Sepulveda Boulevard and other main thoroughfares. Now our streetscapes are beginning to reflect the unity and beauty of our community. In short, we are paving the road to a brighter, healthier and safer future for Westchester.
In the Beginning...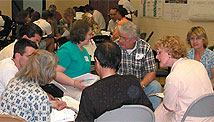 THE PRECURSOR TO WSIA
began in 1990, with a group of families and friends "eager to turn local blight into local beauty." Their purpose was simple: create an environment that was safe and inviting for pedestrians. By collaborating with local citizens, businesses and government agencies, they achieved this goal and so much more.
Our Mission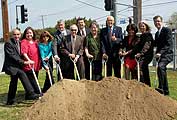 To work cooperatively and interactively with the community, elected officials and government agencies "to enhance, beautify and improve" local streetscapes, resulting in a better environmen for both the commercial and the residential areas of Westchester.
Your Support
WISA has helped improve the quality of life for residents, visitors and businesses in Westchester because of donations from people like you. We greatly appreciate every donation we receive.